The Albuquerque Historical Society (AHS) is a non-profit, membership organization of residents interested in promoting and preserving all matters relating to the history of Albuquerque, New Mexico and the surrounding communities. Founded in 1947 as the Old Town Historical Society, it originally focused on efforts to preserve the historic character of Old Town Albuquerque. Currently, AHS sponsors a series of monthly Programs and provides Educators with teacher resource guides. In the near future, we will also maintain a Speakers Bureau for primary and secondary schools and host a repository of Source Documents for education and research. To learn more about us visit our  Who We Are page.
Become a Member of the Albuquerque Historical Society
We welcome new members of all ages. It is not necessary to be a historian or have prior knowledge of Albuquerque or New Mexico history. Members receive advance notice via e-mail about forthcoming events sponsored by the AHS, and other societies interested in history, plus opportunities to participate in community and educational outreach activities. To become a member or to renew your current membership, download our membership form, complete and mail it with a check for $25 to AHS, PO Box 20568, Albuquerque, NM 87154-0568.
Albuquerque Historical Society Bylaws Revision
The Albuquerque Historical Society (AHS) is in the process of updating its' organizational bylaws which have not been updated in several decades. A revised version has been submitted to the membership and is available for download as a pdf or Microsoft Word (doc) document.The intent is to have a vote on the revision during the normal monthly AHS meeting on October 19, 2014.
October 2014 Program – Postwar Transformation of Albuquerque, 1945-1972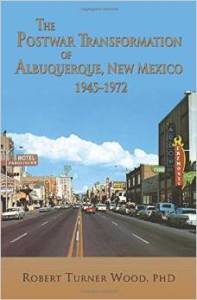 Dr. Robert Wood will give a presentation on the Postwar Transformation of Albuquerque, 1945-1972, Sunday, October 19, 2014, 2 pm at the Albuquerque Museum. "From the end of World War II to the closing months of 1972, Albuquerque, New Mexico, underwent as dramatic a transformation as any American city ever has in such a short time. Its population exploded from about 50,000 to more than five times that number, and the median income of its citizens adjusted for inflation doubled. Fundamental changes took place in the character of the city, as the rugged individualism of the people gave way to more cooperative behavior, and authority relaxed throughout the society. Such broad social changes could also be seen in the country at large, but in Albuquerque they transpired more rapidly and vividly. Ex-Governor Clyde Tingley, Pete Domenici before he became a U.S. Senator, County Commission Chairman Dorothy Cline, Chicano activist Reies Tijerina and many others come to life on these pages. Their words and acts have had a continuing impact on the paths the city has followed to the present day." The program will take place at the Albuquerque Museum, 2000 Mountain RD. NW, in Old Town. All programs are free and open to the public. Free parking in the lot south of the Albuquerque Museum.
Downtown Walking Tours Continue Through November 22nd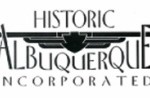 The Albuquerque Historical Society has worked with Historic Albuquerque Inc. (HAI) to develop a walking tour of downtown Central Ave and train volunteers to provide free tours. AHS & HAI received a City of Albuquerque Urban Enhancement Trust Fund grant for the project. The two key HAI volunteers are Diane Schaller and Dick Ruddy. Diane has researched the histories of many downtown businesses. Dick has done much research and collected photographs of various historic buildings, many of which were demolished. The free walking tours of downtown Central Avenue are on Saturdays, 10 – 11:30 am and continue through November 22, 2014. Meet at the corner of 1st & Central in front of the movie theater. No reservation is required. Currently, parking fees are not enforced on Saturdays at parking meters or pay boxes. There are fees at City garages and private parking lots. Contact Janet Saiers for more information.
October 2014 History Opportunities
There are many opportunities to participate in local and statewide history programs this month. View the October 2014 History Opportunities (updated 10/17) page assembled by Janet Saiers.