The Albuquerque Historical Society (AHS) is a non-profit, membership organization of residents interested in promoting and preserving all matters relating to the history of Albuquerque, New Mexico and the surrounding communities. Founded in 1947 as the Old Town Historical Society, it originally focused on efforts to preserve the historic character of Old Town Albuquerque. Currently, AHS sponsors a series of monthly Programs and provides Educators with teacher resource guides. We also maintain a Speakers Bureau for primary and secondary schools and host a repository of Source Documents for education and research. To learn more about us visit our About page.
Become a Member of the Albuquerque Historical Society
We welcome new members of all ages. It is not necessary to be a historian or have prior knowledge of Albuquerque or New Mexico history. Members receive advance notice via e-mail about forthcoming events sponsored by the AHS, and other societies interested in history, plus opportunities to participate in community and educational outreach activities. To become a member or to renew your current membership, download our membership form, complete and mail it with a check for $25 to AHS, PO Box 20568, Albuquerque, NM 87154-0568.
AHS Member Participation Opportunity
The Albuquerque Historical Society often receives questions from people about Albuquerque history in general or as it relates to their personal lives. AHS board members reply to these questions with answers or referrals to other individuals and organizations that may have answers. AHS is inviting its members to help reply to such questions if they choose. If you are a member of AHS and would like to volunteer to help respond to AHS website inquiries, see our Member Participation on AHS Website Inquiries page.
October Program – Legendary Locals of Albuquerque
On Sunday, Octob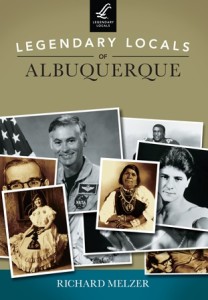 er 18, 2015 at 2:00 pm, Dr. Richard Melzer will speak on his new book "Legendary Locals of Albuquerque". The book describes 150 people who made contributions to Albuquerque history since its founding in 1706. Artists, educators, sports figures, politicians and others are included. Melzer commented that this book will be enjoyed by "native Albuquerqueans and newcomers alike". Each description is accompanied by a photograph or sketch.
The program will be held at the Albuquerque Museum in Old Town. Parking is free in the lot south of the Museum. Admission to the Museum and the AHS program is free. Read More.
Downtown Albuquerque Walking Tours
Free Walking Tours of Downtown Central Avenue (between 1st and 8th Streets) are offered on Saturday Mornings starting at 10:00 AM. Meet at 1st & Central SW by the movie theater. On street parking is NOT monitored on Saturdays. For more info see our Downtown Albuquerque Walking Tours page.
October History Opportunities
There are many opportunities to participate in local and statewide history programs this month. View the October 2015 History Opportunities page compiled by Janet Saiers.