The Albuquerque Historical Society (AHS) is a non-profit, membership organization of residents interested in promoting and preserving all matters relating to the history of Albuquerque, New Mexico and the surrounding communities. Founded in 1947 as the Old Town Historical Society, it originally focused on efforts to preserve the historic character of Old Town Albuquerque. Currently, AHS sponsors a series of monthly Programs and provides Educators with teacher resource guides. We also maintain a Speakers Bureau for primary and secondary schools and host a repository of Source Documents for education and research. To learn more about us visit our About page.
Become a Member of the Albuquerque Historical Society
We welcome new members of all ages. It is not necessary to be a historian or have prior knowledge of Albuquerque or New Mexico history. Members receive advance notice via e-mail about forthcoming events sponsored by the AHS, and other societies interested in history, plus opportunities to participate in community and educational outreach activities. To become a member or to renew your current membership, visit our AHS Membership page.
March AHS Program – The History of Downtown Albuquerque's Maisel's Indian Trading Post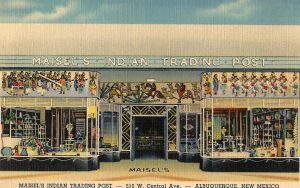 The fascinating legacy of Maisel's Indian Trading Post will be presented by Diane Schaller, President of Historic ABQ, Inc. at 2:00 pm on Sunday, March 18, 2018 at the Albuquerque Museum at 2000 Mountain Rd. NW in Old Town. Free parking south of the Museum and free admission to the Museum and the program. Read More.
March History Opportunities
There are many opportunities to participate in local and statewide history and cultural programs this month. View the March 2018 History & Culture Opportunities page compiled by Janet Saiers.
AHS Member Participation Opportunity
The Albuquerque Historical Society often receives questions from people about Albuquerque history in general or as it relates to their personal lives. AHS board members reply to these questions with answers or referrals to other individuals and organizations that may have answers. AHS is inviting its members to help reply to such questions if they choose. If you are a member of AHS and would like to volunteer to help respond to AHS website inquiries, see our Member Participation on AHS Website Inquiries page.
Downtown Albuquerque Walking Tours
Free historic Downtown Albuquerque Walking Tours are available every Saturday at 10:00 am across from the Albuquerque Transportation Center at 1st and Central. For more info see our Downtown Albuquerque Walking Tours page.
Annual New Mexico History Society Conference, April 19-21, 2018
The 2018 New Mexico History Conference will be held in Alamogordo on Thursday, April 19 – Saturday, April 21. The conference events will be held on the campus of New Mexico State University, Alamogordo (NMSU-A) in the Science Center, Rohovec Fine Arts Center, and Tays Center at 2400 N. Scenic Dr. The Thursday night reception will be held at the New Mexico Museum of Space History just up the hill from NMSU-A at the Top of Highway 2001. Registration and book vendors will be located at the Science Center building. Form more information, see the HSNM New Mexico History Conference web page.