The Albuquerque Historical Society (AHS) is a non-profit, membership organization of residents interested in promoting and preserving all matters relating to the history of Albuquerque, New Mexico and the surrounding communities. Founded in 1947 as the Old Town Historical Society, it originally focused on efforts to preserve the historic character of Old Town Albuquerque. Currently, AHS sponsors a series of monthly Programs and provides Educators with teacher resource guides. In the near future, we will also maintain a Speakers Bureau for primary and secondary schools and host a repository of Source Documents for education and research. To learn more about us visit our  Who We Are page.
Become a Member of the Albuquerque Historical Society
We welcome new members of all ages. It is not necessary to be a historian or have prior knowledge of Albuquerque or New Mexico history. Members receive advance notice via e-mail about forthcoming events sponsored by the AHS, and other societies interested in history, plus opportunities to participate in community and educational outreach activities. To become a member or to renew your current membership, download our membership form, complete and mail it with a check for $25 to AHS, PO Box 20568, Albuquerque, NM 87154-0568.
August 2014 Program - Rerouting Route 66 Thorough Tijeras Canyon
Roger Zimmerman speaks on Rerouting Route 66 Thorough Tijeras Canyon at the August 17, 2014, 2 pm meeting of the Albuquerque Historical Society. The famous Route 66 once was a lengthy journey from Santa Rosa north to Santa Fe then south to Los Lunas before heading back toward Gallup. Zimmerman will describe the 11 year transition period from 1926 to 1937 when Route 66 finally was constructed through Tijeras Canyon. The program will take place at the Albuquerque Museum, 2000 Mountain RD. NW, in Old Town. All programs are free and open to the public. Free parking in the lot south of the Albuquerque Museum.
Downtown Walking Tour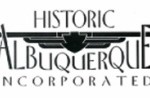 The Albuquerque Historical Society has worked with Historic Albuquerque Inc. (HAI) to develop a walking tour of downtown Central Ave and train volunteers to provide free tours. AHS & HAI received a City of Albuquerque Urban Enhancement Trust Fund $3,000 grant for the project. The two key HAI volunteers are Diane Schaller and Dick Ruddy. Diane has researched the histories of many downtown businesses. Dick has done much research and collected photographs of various historic buildings, many of which were demolished. Training began in April 2014 and the plan is to provide walking tours on a regular basis (one-two times per month) starting June or July 2014. The tours will be free and open to the public.
August 2014 History Opportunities
There are many opportunities to participate in local and statewide history programs this month. View August 2014 History Opportunities (updated 8/16) page assembled by Janet Saiers.